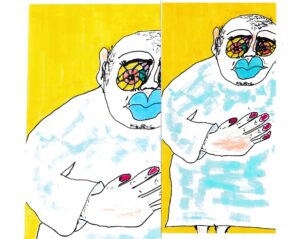 Bleary Doubled 2020 by Fly
This is often known as your source of refuge. It comes when you are at your wits end and you need to refer to something or someone wiser than your ego-self. It comes with power, a power to decide between one thing or another. In spiritual life, it comes through the realization of renunciation.
Stop and ask yourself: "What do I rely on?"
In science and business and all the many things of the world we call it a "reference." What do I refer my will to when I need assistance?  The question itself determines action – what action you will take with body, speech and mind.
When something occurs, some event or series of events in your mind – which is where all events are reflected – what do you do? And, where do you go for help?
Let me relieve any anxiety that this question may bring up by adding – there is no "right" or "wrong" answer. The answer, whatever it is, is illumination. The answer tells you what you have "faith" in. It will tell you your reference. And knowing your reference will tell how you measure and evaluate your life. It may even help you see how your reference hinders your spiritual journey.
So, let me ask the same question in another way.
What for? When you do something what do you do it for?  You get to fill-in the blank.
This particular practice is preliminary, but it nevertheless may yield gold if you are sincere in your quest to know that which is ineffable.
Another way to understand this "reference" is to look at a habit since habits are actions for something or for another. The bedeviled alcoholic shows us in bright painful lights how a habit works. The person is in pain and takes action for some pain relief where alcohol is the reference of choice. It is available, convenient, and offers a false degree of reliability. It works. But, as we know, over time this reference turns into dependence and then turns into a demon. With this in mind, notice how what we turn to as a reference follows this pattern of a habit. We want an available, convenient and reliable reference. One we can trust.
Dare I say that all habits built on things that fall apart are unreliable. Despite this truth we often continue to turn to them as though they are not unreliable. I note this as an encouragement to seek a "reliable" reference; one that is ever-present, ever-powerful, and ever-reliable.
In Zen Buddhism, it is called the True Self – or your True Nature. IT is called by many names but has the same nature across traditions. IT is who you are and not the other way around. You are not IT. We proceed from the unborn, undying, eternal being.
In short, watch what you put your faith in.
God alone is real. All this is apparent and proceeds from God, the unborn, undying, eternal.
"When a Saint was practicing deeply, the teaching of Wisdom, she perceived that all this – name, form, body & mind, feelings, impulses, perceptions, and consciousness are empty of an abiding ego-self…and realized the Truth."
Om Namo Holy Mother God

Author: FaShi Lao Yue
Image credits: Fly, 2020
ZATMA is not a blog.
 If for some reason you need elucidation on the teaching,
please contact editor at: yao.xiang.editor@gmail.com