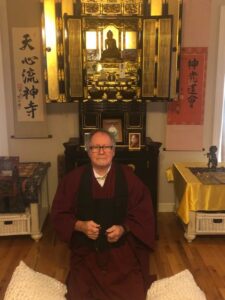 A Single Thread, The Zen Contemplative Order of Hsu Yun Welcomes Old Heart Mountain, 老心山, Lǎo xīn shān shakya aka Arakawa Mitsugi to our Order.
Old Mountain, as he likes to be called, is previously a Monk (Sohei) of the Chinese Chen Yen Mikkyo Order of Monastics. He has been part of a "Warrior Monk" practice since 1995.
He has participated in the Science of Martial Arts for 37 years. He studied several Ryu ( Art of Martial Science) under the direction of Arakawa Nobumasa, his sensei until his passing in 2017.
Old Mountain has found many parallels of Spiritual embodiment that opens the door to Yoga Sadhana (samadhi) through Meditation & Physical practices. He exclaims that "Martial Arts is Yoga  and Yoga is Martial Arts."
It is my honor to welcome Old Mountain to our sangha.
Fashi Lao Yue