This is an ancient method used in Chan practice. It is a question asked over and over again and in all circumstances, such as "Who am I?" The question, if done with sincerity, generates doubt and shifts the mind away from selfish mind content. Let us say, as an example, we are in a sticky situation, where the stress is on the rise and confusion is mounting. This type of scenario tends to cultivate self-protective and self-interest strategies making the mind vulnerable to various sorts of harmful errors. To move the mind to the hua t'ou provides a method of letting go of the dusky content in the mind that is gathering (making) the stress and confusion into a storm.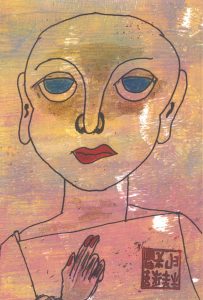 The method takes the mind on the path with words in the form of a question towards the Source of the situation at hand. It is a move backward towards the head of the river (the Source) and inhibits the mind from taking a leap into the rush of defilements and tendencies in the mind. In plain language, it interrupts reactions and habits leaving the mind uncertain.
It is used to generate doubt, an uncertainty of the nature of what is rising. In meditation the mind often travels along a path of self-interest and gathers steam around the particulars of self-interest where the hua t'ou acts as a detour and a return towards the Source. The doubt creates a gap which allows for the possibility of seeing beyond and through the dust of selfishness. The gap allows for a glimpse into what is the true nature of mind by clearing off the clouds of dust allowing a reflection of things as they are to rise even if it is for just a moment. This glimpse is wisdom that runs through all things which lifts up the mind heavenward.
A hua t'ou has the capacity to break up delusive thoughts and ideas about the value and tenacity of selfishness, in whatever form and by whatever name it may appear. It stops the grasping, reaching and clinging of the confusion in the mind as though the confusion is real and inhibits the tendency to make things permanent and fixed.

The Zen Buddhist Order of Hsu Yun: Zen and The Martial Arts isn't a blog. A problem that could use some Zen elucidation will get the needed attention. Contact us at yao.xiang.editor@gmail.com.
Remember, the Path's two important rules: Begin and Continue.
Print This Page