The Zen Buddhist Order of Hsu
Yun

is pleased to announce that our Yao Xin Shakya has been elevated to the rank of Master in a private ceremony held in Belgium.
Our sincere congratulations to him!
A short Bio of Master Yao Xin Shakya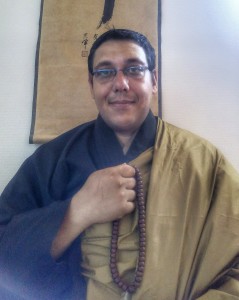 Yao-Xin is a happy married man, and father, living in Namur , Belgium. He received full ordination as a Zen priest in the lineage of Fo Yuan Shakya of the YunMen (Ummon) Ch'an House through the Zen Buddhist Order of Hsu-Yun. Since then he is honored to be the Associate-Abbot of the Zen Buddhist Order of Hsu-Yun, and the founder and senior teacher of Dharma Winds Zen Hermitage (ZBOHY/Zatma) in Namur, Belgium. Were he shares with humbleness and simplicity the combined practice of Pureland recitation and Ch'an meditation.
Yao-Xin Shakya has studied Buddhism since he was 14 years old, when he first entered a Buddhist Temple for the eyes of a beautiful Vietnamese girl he wanted to seduce. Never got the girl but the dharma never left. Then he studied in the Burmese and Thai tradition but couldnt find his right place there. After that, he found his true home in Zen, ten years ago. He was never a sectarian and sees himself as a humble devotee of the Buddha.
He studies and teaches Ch'an Buddhism under the guidance of Ming Zhen Shakya.
He is also very happy and honored to serve as the Vice-Prior & European Liaison Director of the Order of Engaged Buddhists (OEB) founded by his dear friend, the Venerable Shi Xi-Ken.